Google is officially retiring the current version of Google Analytics, also known as Universal Analytics (UA). As a result it will officially stop recording your website traffic on July 1, 2023. In it's place Google has introduced a brand new version of analytics, called Google Analytics 4 (GA4), but the new service needs to be installed on your website for it to work. If you don't make the switch, you will lose analytics on your website.
But don't panic, we can make the switch seamless!
We can handle the transition for you and ensure your website's analytics is up-to-date and fully functional. We start with a full review of your current analytics strategy in order to implement the right solution for your needs. We set up all tracking codes using Google Tag Manager so we can seamlessly manage your GA4 setup with no additional development resource required.
Included with our Google Analytics 4 set-up:
Installation of Google Tag Manager
Migration from UA to GA4 (we'll leave the existing UA tag on your site)
Set up of Custom Goals/Events
E-commerce tracking (if needed)
Linking between Google Search Console and GA4
3 months of custom GA4 monthly reports
Export of your UA historical data after July 2023 when recording stops
If you want help with making the switch to Google Analytics 4 please contact us.
Want to tackle the transition yourself?
Perfect! We've included a step by step instructions below. And if you get stuck or have any questions just reach out and we'd be more than happy to help.
In this article we will hopefully answer any questions you may have about Google Analytics 4 and explain the process of migrating over to Google's new tracking platform.
What will be changing, when and why
Who will this affect
How can you prepare for GA4
What Will Be Changing
Google Analytics 4 will replace Universal Analytics starting July 1, 2023.
The official Google announcement was that "On July 1, 2023, standard Universal Analytics properties will no longer process data. You'll be able to see your Universal Analytics reports for a period of time after July 1, 2023. However, new data will only flow into your GA4 properties."
What is GA4 and how is it different than UA?
Google Analytics 4 isn't just an updated version of Universal Analytics. To align with the current and future needs of privacy and reporting it needed to be built differently. A few of the differences and benefits:
Event-based: Universal Analytics was session-based, while GA4 is event–based. Basically, the ability to track events like button clicks, video plays, and more is included with GA4, while to do this in UA required a more advanced setup usually done with Google Tag Manager. Event-based focuses more on the idea that page views aren't the only important metric.
Cross-device tracking: UA was originally designed for desktop web traffic, however GA4 gives businesses a better understanding and the journey customers make across their website and apps.
Machine learning: GA4 brings with it machine learning technology to share insights and predictive metrics.
Privacy-friendly: The future is cookieless which UA relied heavily on, GA4 does not.
Read more on Google's explanation of the differences of UA and GA4 here.
How can I tell what version of Analytics I'm Using?
Google Analytics 4 came out on If you created your property after October 14, 2020, you're likely using GA4 as it was the default property. If you had an analytics property before that date, you're more than likely using UA.
If you're unsure, easily check your property type by logging into your account, then click on the arrow icon next to your property name:

Then look at your property ID:

If your property ID starts with UA, you're using Universal Analytics.
GA4 properties are made up of just numbers.
I'm using UA, what do I do?
If you're still currently using Universal Analytics, let's get moving:
1. Make the move to GA4 as soon as possible
Though you may have just under a year before this change takes place, make the switch now so you can gather the data needed for automated insights in your GA4 account.
Set up a GA4 property alongside your existing UA property. You can use Google's GA4 Setup Assistant, which gives you the instructions to set up GA4 with your current tag.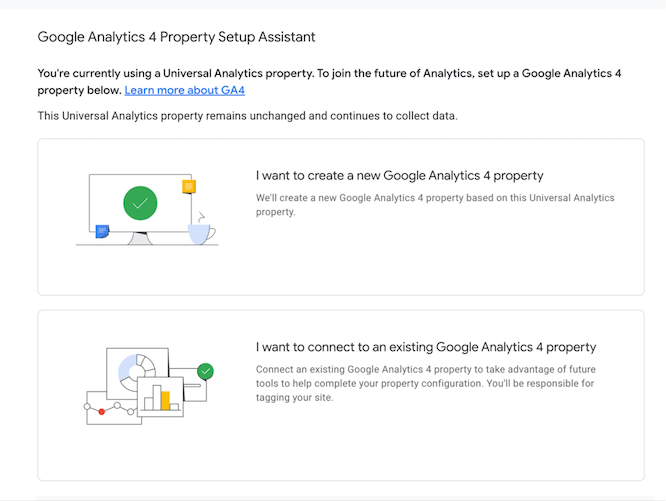 If you are currently running Google Ads, have created custom events in UA, or advanced features, view Google's page on how to switch to Google Analytics 4 – this gives you the process in 12 steps with effort levels indicated for each step.

2. Set Up Google Ads Conversion Tracking from GA4
Now that your GA4 property is tracking, you are able to view Analytics data in Google Ads.
Conversion tracking can be set up and then you should import Analytics conversions into Google Ads and remove the UA goals to avoid duplicating conversions.
Import your GA4 conversions into your Google Ads account by going to Tools & Settings > Conversions > Add new conversion action, and select Import: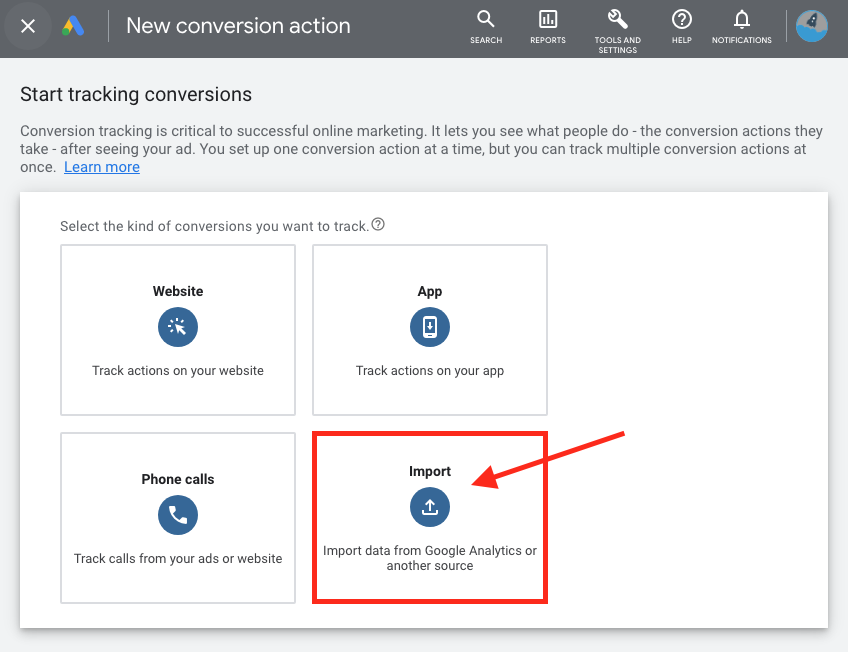 There you can select each conversion event you want to import.
3. Export your UA historical data
Apparently Google is going to allow access to your Universal Analytics data for at least six months after tracking stops on July 1, 2023. If that data that is important to you now's your time to export it. Three ways this can be done:
Export individual reports of what you need
Use the Google Analytics Reporting API
Google Analytics 4… Here comes the future of tracking!
Worth noting again: Switching over to GA4 should be done as soon as you can because the sooner you have it recording, the less historical data you'll need to export. As well the sooner Google's machine learning can start predicting insights in your account.
If we are currently managing your Google Ads account, no action is needed by you, we have already set up GA4 tracking for you at no cost. If you require assistance setting up GA4 for your website contact us today!