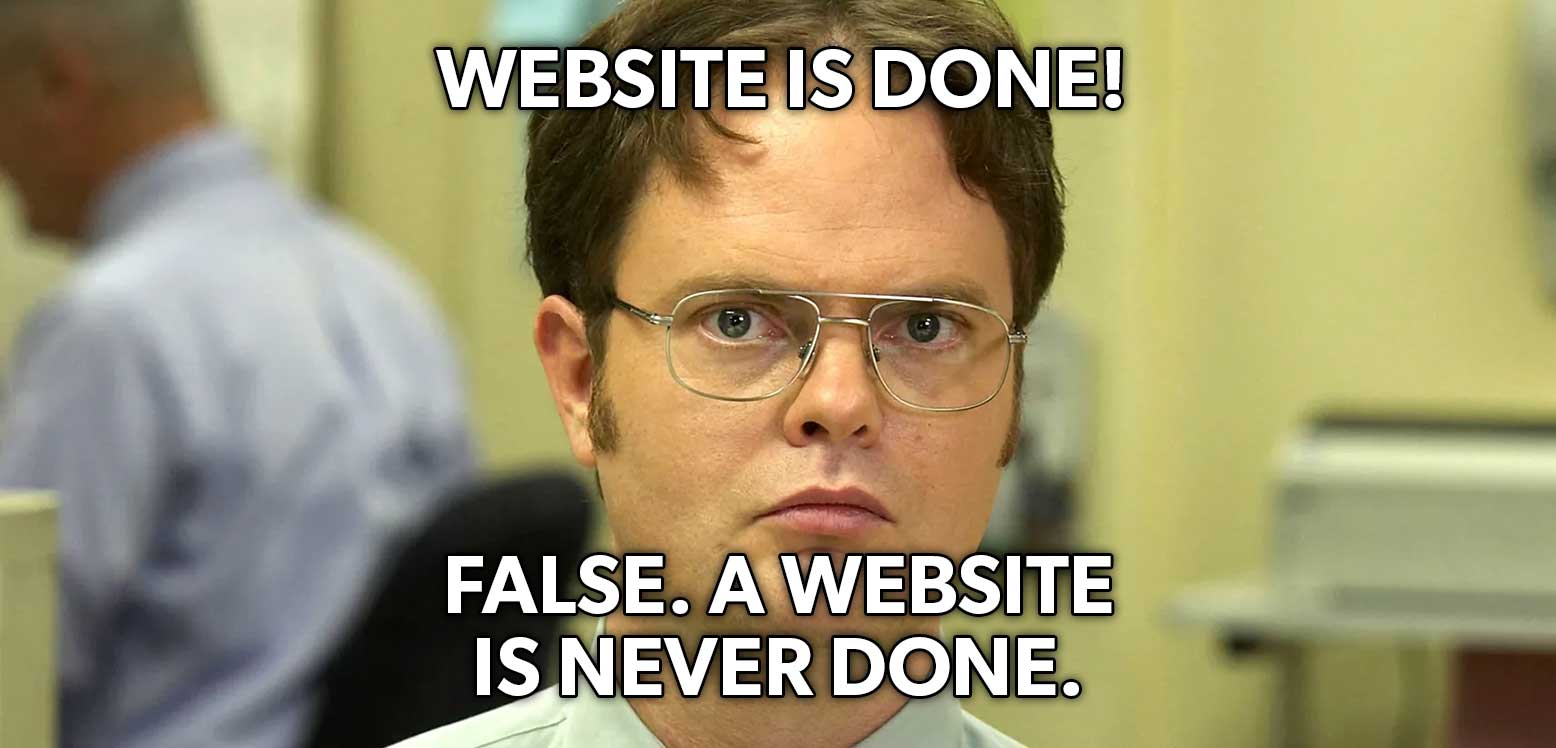 It's Time To Update Your Website – Seriously
When was the last time you took a look at your website – I mean really looked at it? I'm willing to bet it's been months, maybe even years.
So many business owners say that their website does nothing for their business. And they're probably right! I spend my days looking at terrible websites and I'm 100% positive that those websites are not delivering any real value to the business they're supposed to represent.
But this isn't a testament to the low value of a website, it's proof that having a successful website takes continuous work.
Our most successful clients constantly update, tweak, re-evaluate and expand their websites on a monthly basis. If something isn't doing it's job it needs to be analyzed and then updated or replaced.
Brand
Have you recently updated your branding but neglected to update your website? This should be the first thing you do when launching a new brand. It's not just slapping a new logo on an old website. It's important that colours, fonts and even tone are consistent across ALL of your marketing outlets.
Content Is King
Your business is ever evolving, and your website needs to keep pace. Your messaging needs to be up-to-date and laser focused on your business goals. Your business hours, contact information and services should also be current. These are the first things that potential customers look at, and if they're wrong you look incompetent and untrustworthy.
But technology is constantly evolving too. If your website hasn't been updated in years it's probably out-of-date in terms of web standards too. This has a very negative effect on usability, but also on SEO performance. At this point in time, if you're website isn't responsive (works on mobile devices), you really don't even have a website. And if the software that runs your website is out-of-date, it's a ticking time bomb, just waiting for hackers to take over.
Analytics Are Key
Most people have no idea what is happening on their website – how much traffic each page sees, where the visitors are coming from, what they look at and what they searched for to find you. These are all incredibly important metrics that allow you to fine-tune your website to achieve better results. You should be adjusting your website's content and layout on a consistent basis using analytics data.
Assumptions VS Testing
Most people think they know what works for their business and a website almost always reflect these assumptions. But what are these assumptions actually based on? If you're not using actual analytics to make decisions, there's a very good chance that your assumptions are wrong.
Assumptions are made, and most assumptions are wrong.
Albert Einstein
One of the easiest ways to ensure your website is a success is to actually test your website's content and page design. If something works, replicate it on other pages. If it doesn't work, figure out why and test again. And repeat…
New Features To Make Your Business Easier to Manage
Are you manually managing a mailing list in Outlook, or exchanging multiple emails to simply book a meeting? There are ways to make your business run more smoothly by adding features to your website.
Client's Can't Buy What They Don't Know About
You're leaving money on the table by not actively selling your full range of services to both new and existing clients. Most websites take a silo approach to services and make no effort to sell complimentary or packaged services to their clients. Up-selling and cross-selling are simple ways to make more money from the same client. And as an upside you will give them a better end-result, making them happier in the end.
I learned the hard way that client's don't mind paying a little extra as long as they get results.
Maybe It's Just Plain Ugly
It can be a tough pill to swallow, but sometimes your website simply doesn't work because it's plain ugly. It doesn't matter if you built the website yourself, or if you paid someone $20,000 to build it for you, ugly is ugly. And the only way to fix an ugly website is a brand new website.
Putting bandaids on an ugly website is much like putting lipstick on a pig. No doubt, that's a sexy pig, but in the end it's still a pig.
If it is time for a new website we'll first analyze what's not working with your current website, then create a strategy to achieve the best ROI, and only then will we build you a brand new website.
And then after launch we constantly monitor, analyze, test and update your website so that it delivers the best possible results for your business.
Book a website consultation with Local Propeller today and we will turn your website into a valuable business tool.