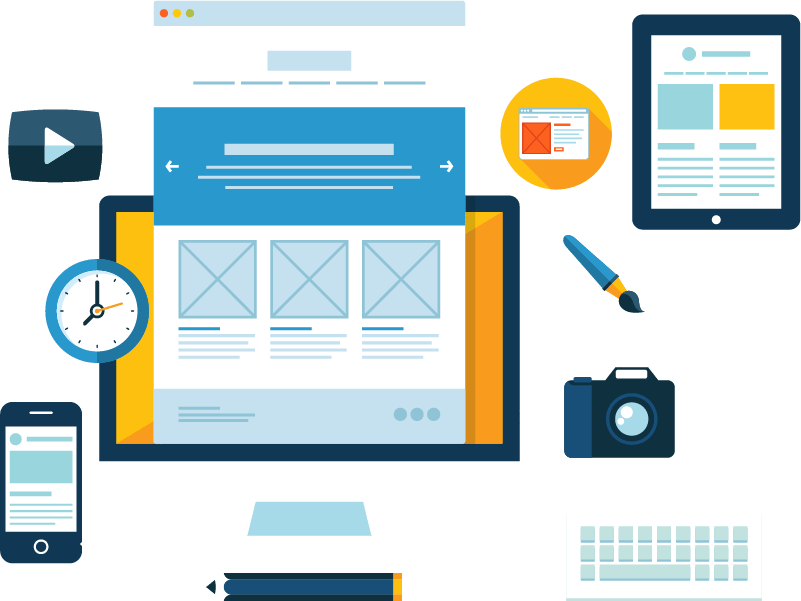 AMAZING BUSINESS WEBSITES
Website design is hands down the most important element of online marketing. And if you're looking for a quick and cost effective website, using a WordPress theme is probably the perfect solution.
WordPress isn't just for blogging – it's the most popular content management system (CMS) on the web and growing every single day. Check out our blog post for more information on Why Your Next Website Should Be A WordPress Website.
Why Not Just Do It Yourself?
Sure you can do all the work yourself, but it's really not as simple as it looks. It takes an immense amount of skill and expertise to get the most out of WordPress. We have the know-how, and a great selection of free and premium plugins to make it happen.
We manage the entire web design process from start to finish, ensuring that the project stays on time and that the end product is exactly what you expect. Check out our blog post Why You Should Hire A WordPress Expert for more information.
Our Website Packages Include
1 Domain Name
Full Service Web Hosting
Free WordPress Plugins*
Google Analytics Set-Up
Access To Knowledge Base & Training Videos
Monthly Software & Security Updates
We've Got A Few Questions
We have a few easy questions before we get started on your new website. Please fill out our web design questionnaire form and someone from our design team will get back to you with any questions or concerns.
Business Package
10 Web Pages
Premium WordPress Theme
SSL Certificate + SSL Security*
Coming Soon Page
1 Premium Plugin*
Newsletter Integration
Google Adwords Set-Up
Google Analytics Dashboard
Basic SEO
Integrate 3 Social Media Accounts
0 Landing Pages
Professional Package
20 Web Pages
Premium WordPress Theme
SSL Certificate + SSL Security*
Coming Soon Page
3 Premium Plugins*
Newsletter Integration
Google Adwords Set-Up
Google Analytics Dashboard
Basic SEO
Integrate 3 Social Media Accounts
2 Landing Pages
Ultimate Package
50 Web Pages
Premium WordPress Theme
SSL Certificate + SSL Security*
Coming Soon Page
5 Premium Plugins*
Newsletter Integration
Google Adwords Set-Up
Google Analytics Dashboard
Premium SEO
Integrate 5 Social Media Accounts
5 Landing Pages
Recent Web Design Projects